Live Free or Dye Hard
7:57 AM
After successfully stripping out most of the color during the bleaching process, it's time to dye.

Normally, I use Manic Panic
because you can find it anywhere, and it stays pretty well. However, Sparks
is a new-to-me brand that the awesome girls at Ricky's were talking up. It's $3 cheaper than Manic Panic and worth an experiment. We'll see if it lasts well throughout the month.

I am hardcore about covering every possible surface before dying. A magic eraser will get out just about every stain, but some surfaces are more porous than others. After scrubbing a pink tub for days once, I try to be more proactive.

After getting prepped, don the gloves and coat my hair. I've mixed conditioner into my dyes before, but Sparks supposedly conditions as it dyes. I wanted to really see the new dye by itself.




There's no easy way to see if I've combed it through everywhere. The BF was kind enough to point out my blonde spots. Then I braided it, put on a shower cap, and let it sit. I left it on for about 4 hours since I was just sitting around on the Internet.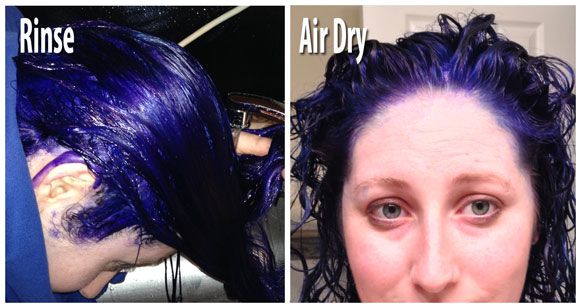 Most of the Amazon reviews for Sparks mention it being heavily prone to staining. I rinsed in the stainless steel kitchen sink over the shower. It's much easier to rinse with a sprayer anyways.

Tip: Vaseline can remove some stains on your skin. I don't know why this works better than just water, but, if you do accidentally get dye on your neck, forehead, or ears, spread a little Vaseline over the area and then wipe it off completely. It doesn't remove all of the dye, but it will take off the majority.


BOOM! Superhero Blue