Social Media for Writers - Part 2: Brand
6:03 AM
Why you need an author platform and the basics of social media >> See Part 1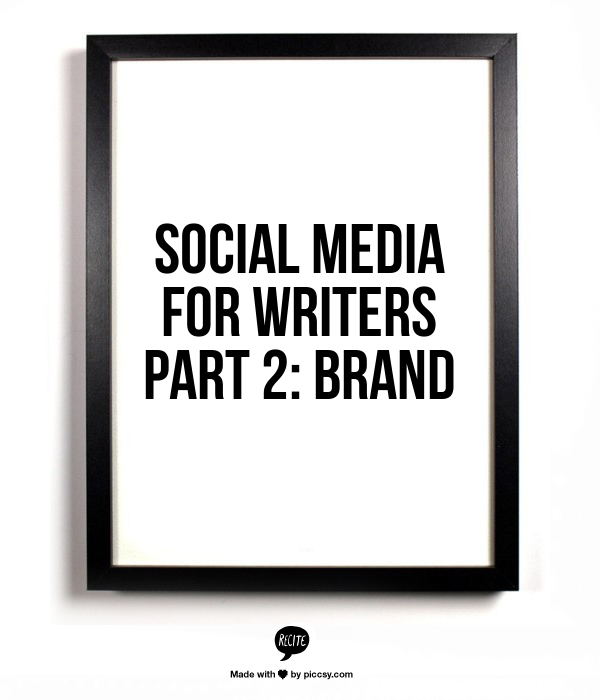 You made it! Website is live. Twitter account created. Blog posts just waiting for inspiration. But where to start?


Brand
Who are you? What are you passionate about? Who do you want to be? You need to define your goals in order to discover your brand.
Don't freak out. You aren't going to figure it all out in one sitting. Just begin. Your brain will keep turning these ideas over for the next few days and your focus will narrow. Your brand will grow more clear in time. Even as you begin to establish yourself, you will shift and narrow. So let's get started...
"The first priority, then, for every writer is to have a single strategic goal. Where do you want to be in three to five years? It needs to be stated with a concrete objective (one that can be externally judged) and with a time lock." - Bob Mayer, IndieReCon 2014
Your brand is you + subject = goal. You can't and shouldn't totally separate yourself from your topic. If everyone is writing science fiction, what differentiates me?
Karma Bennett
, publicist, uses Debbie Stoller as a great example.
BUST
magazine + knitting doesn't seem like it should work.
BUST
is a girl forward, feminist magazine. Knitting is a very traditional pastime. Yet,
Stitch 'n Bitch
was a huge hit spawning a series and Stitch 'n Bitch knitting groups across the world.
First determine your goal, then take a look at how you and your chosen subject matter will get you there. It's all in the math. If your goal is to become a famous author of crime fiction, you shouldn't spend all your time blogging about puppies. Puppies reach a different audience than crime fiction. Also, I do not recommend lumping the two together. That's just sad.
Online Brand Audit
One of the first things you can do is take a look at how you present your brand currently. In the Discoverability in the Age of Social Media: How to Maximize Your Online Presence session at the San Francisco Writers Conference,
Rusty Shelton
broke it down into two categories:
What you don't control

You don't control what pops up when you search for "your name", "book title", "topic area"

What you do control

You do control content and reach
Website, Blog, Google+, Goodreads, Twitter, Linkedin, Facebook
Looking at what you do control, how does your brand come across? Are you curating or creating content around the topics you write about? e.g. I love to write science fiction, fantasy, adventure, and escapism. How much of my blog, twitter, etc is focused on those topics?
Not enough.
There are a few good places to start:
Bob Mayer, author, recommends "doing a profile on yourself before doing anything else. What are you good at? That helps dictate what to do."
IndieReCon 2014
The writer G. Karl Kumfert breaks down critiquing a writer's website
here
. It might be more difficult to apply to your own
(we are so biased)
. You might want to try critiquing another writer's website first and then compare to your own.
Twylah
is a new service offering a free brand assessment of your Twitter in pdf form. It is more useful if you've posted a decent amount. They appear to go off of keywords, which isn't always the most effective measure. However, I found that assessment helped me to better define who I wanted to be as a brand.
The Next Step
Once you have decided who you want to be as a brand and compared that ideal to how you currently present yourself, it's time to make a game plan. How are you going to harness what you can control to work for you? What steps should you take to get to your goal?
Personally, I would love to have two published science fiction and fantasy novels and begin speaking about writing. To accomplish this, I am refocusing my blog into two main arenas. For readers, I am will review science fiction and fantasy books as well as discuss related topics. I'm already reading this stuff so might as well share it! For writers, I will pass along tips I'm learning to helping others. I am blocking out schedules for blogging, vlogging, and engaging on social media. Perhaps most importantly, I'm looking to get more involved in the offline science fiction, fantasy and writing communities.