Social Media Tips for Writers - Part 1: Getting Started
11:17 PM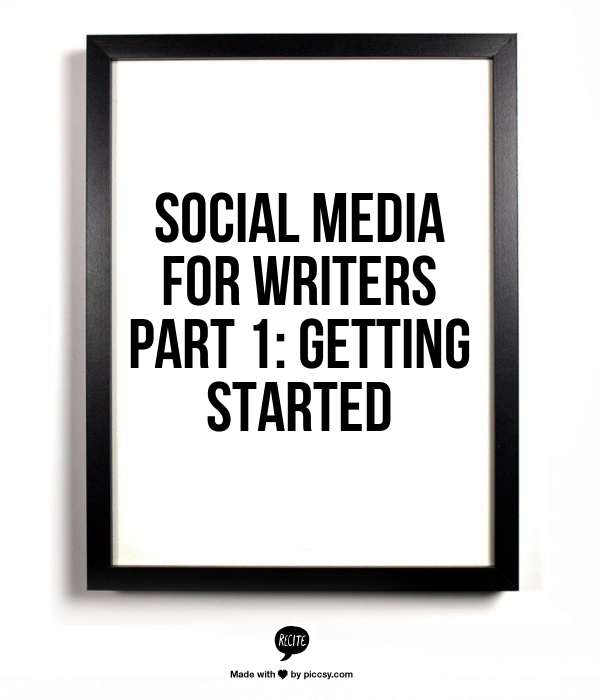 So everyone and their mother is telling you to get an Author Platform.
UGH. That's hard. I don't wanna
, you whine.
I get it. Looking at the multitude of options available, it's a lot to process.
Website, Blog, Facebook, Twitter, Instagram, Youtube, Goodreads, Google+, Vine, Pinterest, LinkedIn, deviantART, Flickr, Foursquare... Where does it end?!
Luckily, you don't have to be everywhere. In fact, you shouldn't. I've compiled thoughts on an author platform and social media presences from a variety of sources just for you. Don't feel special.
Author Platform
The whole "If you write it, they will come." is BS. Sure, you absolutely need great writing to secure the readers, but if they don't know about it...
The biggest threat we face isn't piracy, it's obscurity.
What Cory Doctorow meant is that as artists, we are must put ourselves out there into a world packed with competitors. Sure it might feel slimy to Sell, but no one can have their world completely rocked to the core by your brilliant essay or novel if they don't know it exists.
Still thinking
Ewwww. I hate sales pitches.
? Well, don't Sell. Instead, create your author platform to engage an audience around your subject matter. Get the conversation going so that, when the time is right, you release your baby out into the welcoming arms of your network.
One of the top bloggers on platforms is Joanna Penn of
The Creative Penn
. As she succinctly puts it,
The author platform is how you are currently reaching an audience of book-buying people, or how you plan to do so. It is your influence, your ability to sell to your market.
It's not a Thing. I mean, it is, but it isn't. The platform is more or less the sum of all your book / writing related outreach. Website + Blog + Twitter + you get the idea.
However, putting yourself out there on every networking site available is not going to give you a fantasitic platform. Rather, you'll be spread too thin "...like butter scraped over too much bread."* Instead, you should pick 1-2 to begin with and delve in.
Social Media
As Rusty Shelton of
Shelton Interactive
explained to me this past weekend at the San Francisco Writers Conference, your website is the Hub. This should connect everything and be the basis for your online presence. When it comes to your audience,
Relationship Building: Blog & Twitter
Relationship Sustaining: Facebook
Now that's not a hard and fast rule, but it is a good place to start. You need to be where your audience is, and those are some of the most popular places they hang out.
Facebook is great if you already have a following - especially a particularly engaged one. However, a Facebook page with 1,000 likes and 3 comments is not an active one. When your following is not active, your message doesn't go anywhere.
In the beginning, focus on creating engagement and interaction through your blog and Twitter. You are building your network by reaching out directly to the people you want to connect with. Don't just post shit out into the wind. Shelton says,
Any tweet without @ somebody... is like walking into a cocktail party and just starting to talk.
Sounds pretty effective, right?
raised eyebrow
Well, that's the mistake I made in the beginning. I thought it was all about me sharing my thoughts. And that got me... zero engagement. I wasn't reaching out to people. You need to start conversations. What can you say to draw someone in? How do you it in real life? Do you just go stand in the middle of a room, start sharing your opinion to the room at large, and hope someone walks up interested?
The answer is no. Seriously. No.
So this isn't going to be easy. You'll need to learn where to find your people and what works best to engage them. Once you get the ball rolling, it gets easier and more manageable.
Next time... Okay, I'm on. Now what the hell do I post?
* Bilbo Baggins,
The Fellowship of the Ring
by J.R.R.Tolkien